2015 Jan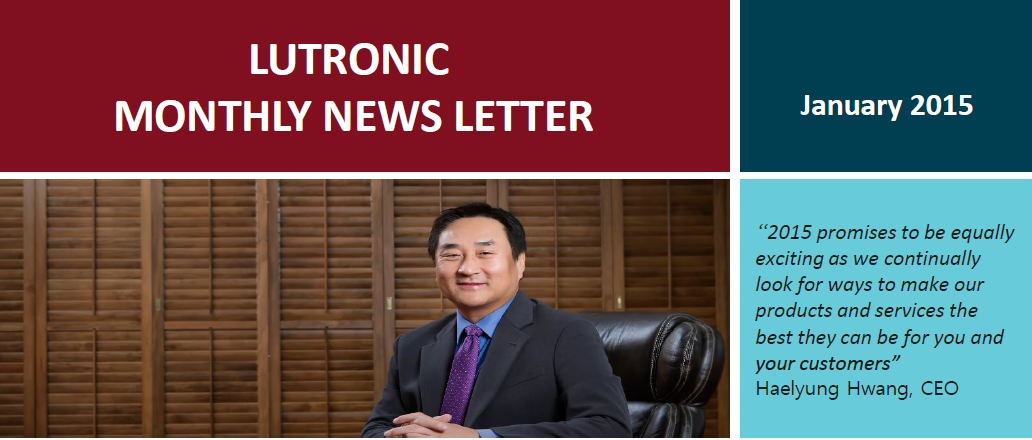 Dear Lutronic Family,
Thank you always for your cooperation as Lutronic's partner.
This time we start issuing the Lutronic monthly newsletter so that you could catch up things that are happening
both inside and outside of Lutronic.
We hope it could be an assistance of communication with Lutronic and it eventually helps your success!
LUTRONIC NOW
Connect with Lutronic
Its continued commitment to advancing the technology
around the globe, Lutronic has announced that its website is now available in 8 languages.
To cerebrate this, we invited the physicians to share
their experience in their own languages on Lutronic and its products.
Through this event, we received lots of testimonials
please check them out.
CLINICAL UPDATES
• WINNING COMBINATION: INFINI & HEALITE II
Dr. R.Glen Calderhead reviews the use of microneedle fractional radiofrequency for skin rejuvenation and explains how LED phototherapy can help further improve results.
http://www.usa.lutronic.com/pdf/PRIME_Journal_Nov_Dec_2014_Volume_2_Issue_6.pdf
• CLARITY
New study
Title: Long pulsed 1064 nm Nd:YAG laser treatment for wrinkle reduction and skin laxity: evaluation of new parameters Author: Department of Dermatology, Seoul National University Journal: The International Society of Dermatology (SCI) Please check with your regional mangers for the paper
• INFINI
The Infini quickguide has been updated on the WebDAM.
http://www.usa.lutronic.com/webinars
• SPECTRA XT
New white paper released with the title 'SPECTRA XT:THE New Extended Paradigm In Nd:YAG-Based Multiplatform Treatment' by Dr. R.Glen Calderhead
http://www.usa.lutronic.com/webinars
PAST EVENTS
eSeminar
The Eco2 Webinar presented by Dr.Jill Waibel on "Advances in Scar Revision. Dr. Jill Waibel Discusses the Latest Advances using CO2 to treat scars"" was a great success on January 8, 2015.
http://www.usa.lutronic.com/webinars
UPCOMING EVENTS (2015 1Q)
• eSeminar
<A breakthrough in acne scar treatments and skin rejuvenation INFINI by Dr. Gilly Munavalli and Dr.
Joely Kaufman> Feb. 5, 5 pm (PDT)
https://attendee.gotowebinar.com/register/2538413172097040898?utm_content=INFINI+Munavalli+Kaufman+Webinar+%28Global%29&utm_campaign=INFINI+Munavalli+Kaufman+Webinar&utm_source=iPost&utm_medium=email
• Asia Regional Business Forum, Feb 5-6, 2015
Jeju Island, Korea
• AAD (American Academy of Dermatology)
Mar 20-24, 2015, San Francisco, California
- Booth No. 2512
- Symposia L (Lutronic Workshop)
Time : Mar. 21, 7-9 pm
Venue: Clift Hotel
495 Geary Street, San Francisco, CA 94102
• AMWC (Anti-Aging Medicine World Congress)
Mar 26-28 2015, Monaco
- Booth No. O27
- Europe Regional Business Forum
Time : Mar. 25, 10am – 6pm Venue : Riviera Marriott Hotel
Port de Cap d'Ail Cap d'Ail 06320 France
- Symposia L (Lutronic Workshop)
Time: Mar. 26, 7-9 pm
Venue: MERIDIEN Hotel
22 Avenue Princesse Grace, 98000 Monaco
For more information on the upcoming events, please contact our regional sales managers Please drop your comments, requests and feedback on Lutronic Monthly Newsletter.
https://docs.google.com/forms/d/19BCAgS81t-XEU0ab1rBQ8vMJ_IP2f7wdhFZFyRouE5g/viewform
Congratulations!
Thirty million dollar Export Award

Lutronic received Thirty million dollar Export
Award by Ministry of Commerce & Industry of South Korea on Dec. 5, 2014.